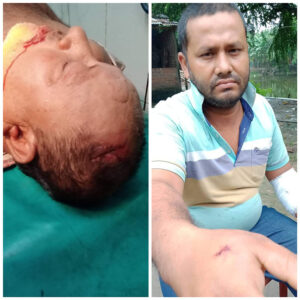 Rajshahi Bureau: Two people were injured in an attack by opponents over a land dispute at Baya Bazar under Airport Police Station of Paba Upazila in Rajshahi. The incident took place at Baya Bazar of Paba Upazila at 8:30 am on Tuesday.
The injured are Intazul Haque (55) and his son Noor Islam Parvez (35) of Baya Palpara area. They have been admitted to ward No. 08 of Rajshahi Medical College Hospital.
According to the sources, Kiran and Milan, son of Benu Sheikh of Baya Para area, and Mirud, son of Kalam, have been in dispute for a long time regarding the shop land of Intazul Haque's sons.
On Tuesday, the opponents tried to encroach on the shop land of Intazul Haque by erecting a boundary wall around Khuti Puta. On hearing the news, the real owner of the land, Intazul Haque, went to the land and the guards hit Intazul Haque on the head with a saber and he fell to the ground. During this time, the opponents beat them and broke their arms and legs. His son Noor Islam Parvez was attacked while trying to protect his father.
The opponents also hit him with iron rods and sabers in different parts of the body. When the injured screamed, the locals came and admitted the injured to Rajshahi Medical College Hospital.
This incident created a lot of excitement in the area.
Intazul Haque's daughter Sonia said the opponents were trying to take over her father's land and shop. Meanwhile, my father and brother came forward and attacked them in a terrorist manner in a pre-planned manner. Currently we are in insecurity.
The accused are two sons of Benu Sheikh of Baya Para area of ​​Paba Upazila, Kiran, Milan and his son-in-law Rabbi and Miru, son of Kalam of the same area.
Eyewitness Rakul Islam Rocky said, in front of the public, he hit his head with a saber and cracked his head and started beating him.
Locals came and admitted the injured to RMC Hospital.
Airport Police Station OC Md. Moshiur Rahman said, the police was sent to the spot after hearing about the incident. I have not received any complaint in the police station yet, if any complaint is received, legal action will be taken against the accused.