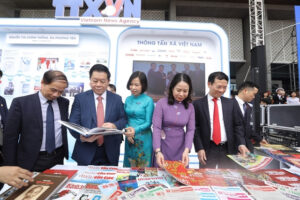 Moon Desk: The 2023 National Press Festival opened at the Hà Nội Museum on Friday with the theme of "Solidarity-Professionalism-Culture-Innovation" and to celebrate the press' achievements over the past year.
The Việt Nam Journalists Association (VJA) and the Hà Nội People's Committee co-chaired the three-day event in coordination with the Party Central Committee's Commission for Information and Education, the Ministry of Information and Communications, and the Ministry of Culture, Sports and Tourism.
The biggest festival in the press circle brings together 63 journalists' associations of the country's cities and provinces, and 60 central and local press agencies, with 87 booths displaying outstanding publications in 2022 and the first quarter of this year.
Nguyễn Đức Lợi, permanent vice chairman of VJA, said besides important factors such as solidarity and professionalism, the national press festival highlights culture and innovation- the two factors that journalism should pay special attention to.
Culture will be the overall theme in most of the events at the festival, while innovation is the most crucial factor of a journalist's professionalism, he said.
How we approach the public has changed, so how information is presented should also be changed. He said that innovation covers being creative in discovering topics, accessing information, and how we offer and convey information to readers.
Lê Quốc Minh, a member of the Party Central Committee and editor-in-chief of Nhân Dân (People) newspaper, said the highlight of this year's festival is the series of professional journalism activities, which focus on updating new trends in technology and practical applications in journalism work.
The event series allows journalists and the public to analyse and learn through excellent journalistic works that contribute to high-quality journalism, said Minh, who is also deputy chairman of the Central Committee's Commission for Information and Education Commission and chairman of the Việt Nam Journalists Association.
After the opening ceremony, broadcast live on national television and radio channels, the organisers launched the 2023 press awards on disseminating information on effectively using energy and opened a photo exhibition.
They also presented awards for the best Tết (Lunar New Year) magazine cover photo, the best news website design, and the best TV and radio programmes, along with an award for organisations and individuals with special activities at the festival.
There will be a series of sidelines events like seminars, workshops, exhibitions, a singing contest, a football tournament and art performances.