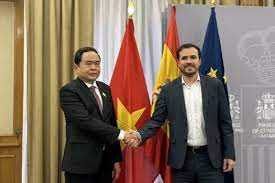 Moon Desk: Minister of National Defence Gen. Phan Văn Giang hosted a reception in Hà Nội on Thursday for Indian Ambassador to Việt Nam Sandeep Arya, during which they discussed measures to strengthen the two countries' defence cooperation.
Congratulating Sandeep Arya on his appointment to this post, Giang said he believed the diplomat will make important contributions to promoting the bilateral relations in various fields, including defence.
Affirming Việt Nam attaches importance to its comprehensive strategic partnership, the minister said that based on the fine relations and mutual political trust, the bilateral defence cooperation has developed continuously, bringing about practical results, and becoming an important pillar in the two nations' ties.
He proposed the ambassador pay attention to boosting defence cooperation activities to further enhance the relations between the two countries in general and the two armies in particular, for peace and stability in the region and the world. He affirmed the Vietnamese Ministry of National Defence always creates favourable conditions for the diplomat to fulfil his missions.
Ambassador Arya asserted that in his position, he will exert efforts to contribute actively to fostering the two nations' relations in general and their defence cooperation in particular.