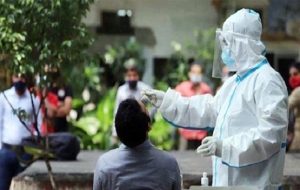 Moon Desk : Bangladesh on Tuesday reported zero Covid-19 death in the past 24 hours while it recorded 175 coronavirus positive cases during the period.
With this, the total number of fatalities remain at 29,316 and infections rose to 20,10,323.
Directorate General of Health Services confirmed the information through a press release on Tuesday.
In the last 24 hours, 4,540 samples were examined and out of them 175 got positive results for the virus. Apart from, 329 more recovered from the disease, taking the total recoveries to 19,54,350, the press release added.
Bangladesh reported its first three cases of COVID-19 on March 8 in 2020.
The new coronavirus pandemic first emerged in the Chinese city of Wuhan in December in 2019.
The World Health Organisation declared the coronavirus crisis a pandemic on March 11 in 2020.
The deadly virus spread to 228 countries and territories, killing 6,474,562 people globally, according to Worldometer, a website which compiles number of new coronavirus cases and deaths from it.
As many as 601,899,689 people worldwide caught the virus. Among them, 576,544,138 people recovered from the virus, the website said.