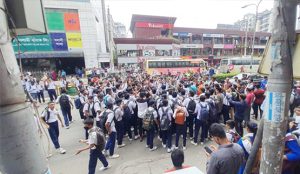 Moon Desk: Banani Bidya Niketan students started sit-in at Kemal Ataturk Avenue in Banani on Tuesday, blocking Banani to Gulshan-2 road.
They took to the street as per their pre-scheduled programme demanding implementation of half bus fare.
The students blocked the road from 12noon, causing huge tailback in and around the area. Later, some other students of different schools and colleges joined with them.
The protest was going on till 2:30pm.
The students alleged that they are being charged higher bus fare on Gulshan-Banani-Notun Bazar route, though thousands of students travel this way everyday. They are being charged Tk 30 for this 2.5 kilometer commute.
Banani Police Station OC Nur-e-Azam said, "We are talked to the bus authorities. They claimed that they are taking half fare from the students. We are still look into the matter."
The students also vandalised buses and counters. They are still sit-in beside the road.
Earlier on Monday, the students announced this programme.