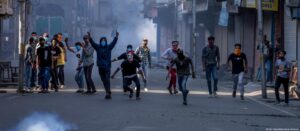 MOON Desk: In Indian illegally occupied Jammu and Kashmir, Chairman of Dogra Swabhiman Sangathan Party (DSSP), Chaudhry Lal Singh has unmasked the real face of the BJP government.He termed BJP assertions of 'good governance and 'accountability' during their term in office as nothing but a bunch of lies.He said that BJP which stormed to power in IIOJK, has literally deprived Jammu of all its resources.
Chaudhry Lal Singh addressing a party meeting in Khour, Jammu, said that the territory had been dismembered and reduced into two union territories (UTs), something unseen and unheard in the history of India.He accused the Indian government of illegally establishing a proxy rule imposed on the people of Kashmir through a handful of bureaucrats and powerless experts requisitioned from other parts of the country and hardly having any stakes in the betterment of the territory or wellbeing of its people.
He lamented that the last 4 years have ruined the entire economy of Jammu and Kashmir which has in reality collapsed, unemployment is at its peak and youth is in utter frustration.Mr Farooq Abdullah National Conference chief and ex CM IIOJK has said, Modi making Pandits scapegoats to project false normalcy claim in IIOJK, Modi regime's tall claims of normalcy have fallen flat as mere propaganda.Farooq Abdullah accused of spreading fake news, the Modi-led BJP regime is making Kashmiri Pandits "scapegoats" in order to project a false sense of normalcy in territory.