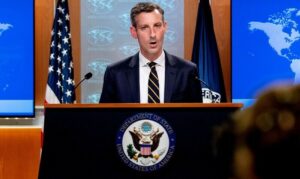 In this file photo, State Department Spokesperson Ned Price speaks at the State Department in Washington, DC, US
MOON Desk: "Pakistan has the right to defend itself from terrorism," the US State Department declared, in an effort to back the country's counterterrorism efforts against infiltrators from neighbouring Afghanistan.State Department spokesman Ned Price told in press briefing that "Pakistan, of course, has suffered tremendous violence owing to the threats that are — that have in many cases emanated from Afghanistan.
"In the US-Taliban agreement, the Taliban committed to seeing to it that international terrorists would not operate freely within Afghanistan. The United States has — in the operation that we undertook a few months ago that eliminated the leader of al-Qaeda, who was living inside, in Kabul — made very clear that the Taliban had not lived up to that commitment," Price said.
In Kabul, meanwhile, the Afghan Taliban rejected Price's allegations: "The Islamic Emirate stands by its promise. We have control over the entire country and there is no evidence that Afghan soil has been used against any neighbouring country," said Bilal Karimi, the Taliban's deputy spokesman in a statement.
Price warned of the increasing dangers of terrorism: "Terrorism remains a scourge that has taken so many Pakistani, Afghan, and other innocent lives.The United States and Pakistan do indeed have a shared interest in ensuring that the Taliban live up to the commitments and those terrorist groups like IS-K [Islamic State — Khorasan Province, an affiliate of the Islamic State group], like the TTP [Tehrik-i-Taliban Pakistan], like al-Qaeda, are no longer able to threaten regional security."