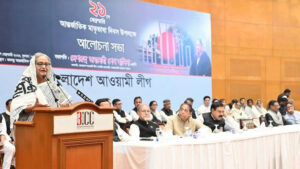 Moon Desk: Prime Minister and Awami League (AL) President Sheikh Hasina today called upon the countrymen to boycott the parties formed illegally by military dictators and remain vigilant against them.
"It is impossible to assume power by lobbying foreigners… It seems like someone coming from outside will take the BNP to power through the cradle. It (BNP) has been dreaming so. Once upon a time, they could make it happen by acting as a broker (of foreigners). But there is no scope left in Bangladesh to go to power through the acts of an agent," she said.
She was presiding over a discussion meeting organized by the AL marking the Shaheed Dibos and International Mother Language Day at the Bangabandhu International Conference Centre (BICC) in the capital.
The Prime Minister said that the people of the country have now become much more aware and they know better about the country, its history and the target of the Awami League government.
She said the BNP leaders are going to their local and foreign masters and lodging complaints against the Awami League government despite the fact that they did nothing (wrong) with them in comparison to their misdeeds with her party (AL) when it was in the opposition.
The premier said that the BNP, while in power, never allowed the AL to take to the street and unleashed inhuman torture to their leaders and activists, referring to the BNP's nationwide movement without any interference of the government.
General Secretary of the AL and Road Transport and Bridges Minister Obaidul Quader, MP, gave the address of welcome.
AL Presidium Members, Deputy Leader of the Jatiya Sangsad, Begum Matia Chowdhury, and Mofazzel Hossain Chowdhury Maya, Bir Bikram, former Vice-Chancellor of Dhaka University Prof Dr AAMS Arefin Siddique, Advisory Council Member Prof Dr Sadeka Halim, actor Ferdous Ahmed, AL Information and Research Secretary Dr Salim Mahmud, working committee members Nirmal Kumar Chatterjee and poet Tarik Sujat, Dhaka North and South City AL President and General Secretary respectively Sheikh Bazlur Rahman and Humayun Kabir, among others, spoke at the meeting.
Publicity and Publication Secretary of the AL Dr Abdus Sobhan Golap, MP, and his deputy Syed Abdul Awal Shameem moderated the discussion.
At the outset of the meeting, one-minute silence was observed to show respect to the martyrs of the Language Movement, Liberation War, August 15, 1975 carnage and all the democratic and progressive movements.
The day is also being observed around the world as UNESCO recognised the International Mother Language Day on November 17, 1999. Bangladesh missions abroad also observed the day in a befitting manner.