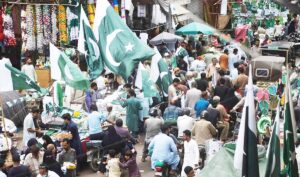 MOON Desk: The Pakistani people across the globe will celebrate their 77th independence from British rule, with a renewed pledge to uphold the spirit of the Pakistan Movement to make the Pakistan a true Islamic welfare state.
14 Aug 1947, commemorates the day when Pakistan achieved independence and was declared a sovereign state following the termination of the British Raj in August of 1947.
Pakistan achieved independence from British rule when after a prolong political struggle under the vibrant and dynamic leadership of Quaid-i-Azam Muhammad Ali Jinnah and leaders from East Bengal (Now Bangladesh), forced British Raj to partition the Indian sub-continent into two independent dominions, Muslim majority Pakistan and Hindu-majority India.
The day will dawn with a 31-gun salute in federal capital Islamabad and 21-gun salutes at the provincial headquarters. Special prayers will be offered in mosques for peace, solidarity and prosperity of the country.
The main feature of the celebrations will be a national flag hoisting ceremony in Islamabad. Similar flag hoisting ceremonies will also be held at provincial, divisional and district headquarters-level throughout the country.
The president and prime minister will deliver special speeches, recalling the sacrifices of the nation's forefathers who laid down their lives for the country. The district and local authorities actively plan and execute events to express patriotism and add colors to the day. Citizens participate in face painting, donning the country colors, dressing up elaborately, lighting fireworks, and celebrating all things Pakistan.
On the occasion, Radio Pakistan and Pakistan Television will run special transmissions to highlight the services of the heroes of the Pakistan Movement and pay tributes to their glorious contributions in making Pakistan a reality.