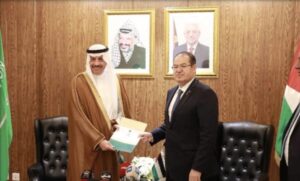 Moon Desk: Saudi Arabia on Saturday named a non-resident ambassador for the Palestinian Territories, who will also serve as consul general for Jerusalem.
The role will be filled by Nayef Al-Sudairi, the current ambassador to Jordan, according to a social media post from the Saudi Foreign Ministry.
Al-Sudairi presented his credentials to Majdi Al-Khalidi, diplomatic affairs advisor to the Palestinian president, at the Palestinian Embassy in Amman.
In a video broadcast on Al-Ekhbariya news channel, Al-Sudairi said the appointment represented "an important step" and underscored the desire of King Salman and Crown Prince Mohammed bin Salman "to strengthen relations with the brothers of the State of Palestine and give it a formal boost in all areas."
Al-Khalidi said he welcomed the appointment and told Palestinian news agency Wafa that it would "contribute to strengthening the strong and solid brotherly relations that bind the two countries and the two brotherly peoples."