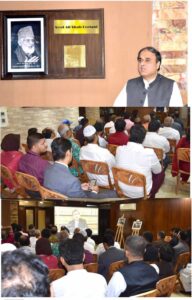 Staff Reporter: High Commission for Pakistan, Dhaka organized an event today to observe "Youm-e-Istehsal" (Exploitation Day) to express solidarity with the oppressed people of the Indian Illegally Occupied Jammu and Kashmir (IIOJK) as well as pay tribute to the extraordinary services of the veteran Hurriyat Leader, Syed Ali Shah Geelani.
The event was attended by members of the Pakistani community and local media representatives.
Messages of the President Dr. Arif Alvi, Prime Minister Muhammad Shehbaz Sharif and Foreign Minister Bilawal Bhutto Zardari were read out on the occasion.
In their messages, the President and the Prime Minister of Pakistan reiterated call on the international community to hold India accountable for its illegal actions and crimes against the people of Indian Illegally Occupied Jammu and Kashmir (IIOJK) while renewing Pakistan's commitment to just struggle of the occupied Kashmiri people for their right to self-determination.
The Prime Minister in his message reiterated that the people of South Asia desired peace and stability and this only become possible through meaningful and purpose-oriented dialogue between India and Pakistan that includes discussion on all outstanding issues, including the Jammu and Kashmir dispute.
The Foreign Minister in his message expressed solidarity with the people of IIOJK and reaffirmed Pakistan's abiding commitment to the Kashmir cause. He said that Pakistan wanted good relations with all its neighbors, including India and emphasized those good relations can only be achieved through dispute resolution and not through dispute denial.
At the outset of the event, a video documentary was screened that highlighted the life, struggle and vision of veteran Hurriyat leader (Late) Syed Ali Geelani in the Kashmir freedom movement.
Syed Faiz Naqshbandi, Convener of the All Parties Hurriyat Conference, in his video message, provided insights into the grave and systematic human rights abuses committed by Indian occupation forces against Kashmiris. He highlighted that the heavy presence of over a million Indian forces has transformed Jammu & Kashmir into a virtual prison. Despite enduring persecution, the people of IIOJK remain steadfast in their struggle and continue their unwavering resistance against brutal Indian oppression.
Mr. Imran Ahmed Siddiqui, Pakistan's High Commissioner to Bangladesh, in his concluding remarks reiterated the Pakistani leadership's stance and reaffirmed Pakistan's strong resolve to continue raising the Jammu & Kashmir dispute at all relevant fora until India reverses all its unilateral and illegal measures taken since 5 August 2019 and grant the Kashmiri people their inalienable right to self-determination as per UN Security Council resolutions.