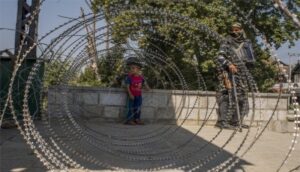 Moon Desk: For the last seven decades, Kashmir has been the epicenter of a bitter dispute between India and Pakistan in which the people in Jammu and Kashmir are an integral party. To resolve the conflict, the United Nations Security Council adopted Resolution 47 in 1948, and more than a dozen subsequent resolutions, stipulating that the final disposition of the State of Jammu and Kashmir would be decided by its people through a free and impartial plebiscite conducted under the auspices of the UN. This was accepted by India and Pakistan and, in accordance with Article 25 of the UN Charter, both parties are obligated to implement these resolutions.: 0:38
But this Saturday, Aug. 5, marks four years of India's unilateral actions to consolidate its occupation of Indian illegally occupied Jammu and Kashmir (IIOJK) and imposing what India's leaders have ominously called a "final solution" for Kashmir. To do so, India has resorted to a series of illegal actions, gross and consistent violations of human rights and other crimes that continue to this day.
This brutal campaign is driven by the ideology of "Hindutva," which propagates the religious and ethnic supremacy of Hindus and hate against Muslims. Noting this pattern, Genocide Watch has warned that "the Indian government's actions in Kashmir have been an extreme case of persecution and could very well lead to genocide."
To suppress the voice of the Kashmiri people, Indian authorities have used censorship and surveillance for decades in the occupied territory. Since August 2019, information control has been fully institutionalized. Journalists, lawyers, human rights defenders and the entire Kashmiri political leadership are routinely incarcerated, beaten, humiliated, harassed and even accused of "terrorism" for reporting the human rights violations in IIOJK.
To extinguish the ethno-religious identity of Kashmiris, historical sites have been destroyed and damaged. One of the most troubling aspects of the destruction of cultural heritage is the demolition of religious sites, particularly mosques, which inflicts deep emotional wounds on the Muslim population.
All the measures taken by India in the last four years are blatant violations of international law, including the relevant Security Council resolutions, specifically Resolution 122 (1957). Therefore, all the actions taken by India on and after Aug. 5, 2019 are not only illegal but, ipso facto, null and void.
Pakistan desires peaceful relations with all its neighbors, including India. Pakistan has responded with responsibility and restraint to India's repeated provocations. On the other hand, India continues to resort to aggressive rhetoric and repeated threats of the use of force against Pakistan, even under the nuclear overhang. The onus is on India to create conditions that are conducive for a meaningful dialogue to resolve the Jammu and Kashmir dispute. To this end, India must:
stop all human rights violations in Jammu and Kashmir
halt and reverse its illegal demographic changes there
reverse the illegal and unilateral measures imposed on and after Aug. 5, 2019
grant access to international observers, including human rights mechanisms of the UN and interna-tional media, to observe worsening human rights situation on the ground
The international community must play a proactive role obliging India to respect the human rights of the people of Kashmir and to work toward a peaceful, inclusive resolution of the conflict. Peace in South Asia will be possible only when the Jammu and Kashmir dispute is resolved. The Security Council and the UN Secretary-General must make concerted efforts, as empowered by the UN Charter, to promote a peaceful settlement of the Jammu and Kashmir dispute, according to the relevant UN Security Council resolutions and wishes of the Kashmiri people.
Preventive measures to stop abuses in IIOJK and to promote global accountability are both a moral imperative and a collective human rights responsibility. Millions of Kashmiris have suffered for too long. To end their plight, they demand a peaceful resolution to the conflict. It is time to make peace a new normal.