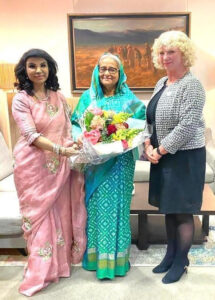 BSS, LONDON: Prime Minister Sheikh Hasina on Friday afternoon attended the Commonwealth Leaders Event here in London. The event started at 2pm local time (7:00pm Bangladesh Time) at Marlborough House of the Commonwealth Secretariat at Pall Mall.
In the event, Sheikh Hasina had Interaction with King Charles III, head of the Commonwealth at the Delegate's Lounge. She will join the Commonwealth joint family photo session in the Garden of Marlborough House.
Sheikh Hasina will also attend the Commonwealth leaders' closed discussion at the Main Conference Room there, which will be chaired by President of Rwanda and Commonwealth Chair in Office Paul Kagame.
In the evening, she will attend the King's reception for heads of states, governments and overseas representatives at Buckingham Palace in advance of the coronation of the King and the Queen Consort.
Later, Professor Payam Akhavan will call on PM Hasina at the bilateral room of the Claridge's Hotel.
Akhavan is professor of International Law and Senior Fellow at Massey College, University of Toronto, Member of the Permanent Court of Arbitration, and former Legal Advisor, Office of the Prosecutor, International Criminal Tribunal for the former Yugoslavia.
PM Sheikh Hasina arrived in London on an official visit to the UK from Washington in the early hours of Friday to attend the coronation of UK's King Charles III, to be hosted by Buckingham Palace on May 6. She will represent Bangladesh at the ceremony.
It will be held at Westminster Abbey on May 6 and the King, who will be crowned along with the Queen Consort, will be the 40th reigning monarch crowned there since 1066.
The PM is expected to return home on May 9, concluding her 15-day three-nation visit to Japan, the USA and the UK.
Prime Minister Sheikh Hasina on Thursday night arrived here from Washington DC to attend the coronation of Charles III and his wife Camilla as the King and the Queen Consort of the United Kingdom (UK) and the other Commonwealth realms. A United Airlines flight carrying the prime minister and her entourage members landed at the Heathrow International Airport in London at 11:49pm (local time) on May 4. Earlier, the flight departed from the Dulles International Airport in Washington DC around 11.30am (local time).