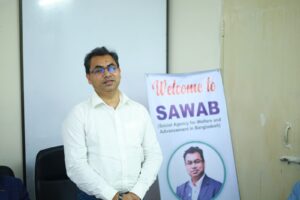 Moon Desk: We are delighted to inform that Mohammad Aftabuzzaman, Director Operations of Social Agency for Welfare and Advancement in Bangladesh (SAWAB) has been selected for a prestigious international level training opportunity in The Hague, Netherlands. The training course is entitled to the Clingendael Advanced Course in Negotiation Skills, scheduled to be held on 9, 10 and 11 May 2023 organized by the Clingendael Institute  in The Hague, Netherlands. We strongly believe that this advanced course will help Mr Aftabuzzaman to improve his skills and disseminate his knowledge to expand further humanitarian negotiations.
Mr. Aftab is a human rights activist and humanitarian professional as well as an expert authority in the development sector of Bangladesh and working with SAWAB as the Director Operations. Previously, he successfully led some development organizations with reputations. As a national NGO, SAWAB has been working in Bangladesh since 1995 in the field of education, health, WASH, emergency relief and rehabilitation, disaster response and humanitarian emergency response, specially education, shelter and women development projects for the stranded Rohingya people since their influx in Cox's Bazar, Bangladesh in 2017.
Mr. Aftabuzzaman is directly involved in planning, implementation of SAWAB's humanitarian projects ranging from shelter/NFI, food, education, livelihood, skill development and WASH for the Rohingya people in Cox's Bazar. In doing so, he used to negotiate with multi-stakeholders like donors, UN agencies, relevant government entities, NGO coordination committees, host communities, camp-in – charge (CIC) offices on a range of issues including access and coordination.
Now, we firmly believe that this type of training program will be pivotal not only for Mr. Aftabuzzaman but also for the organization- SAWAB.
In the meantime, as a development professional, Mr Aftab visited Australia, UAE, Malaysia, India and Nepal and attended international conferences and workshops. Mr. Aftab has a wealth of experience in the formation of learning centers and running shelters for street-children. His strength lies in maintaining close links and networks with marginalized communities, local NGOs, INGOs and CSOs. Currently, he is also the vice president of SCAN- Bangladesh- a national network for the individuals and organizations who are working for the street connected children in Bangladesh.
We wish him every success in the upcoming visit to the Netherlands in the above scheduled courses.