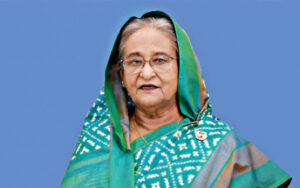 Moon Desk: Prime Minister Sheikh Hasina is expected to inaugurate seven development projects during her daylong visit to Rajshahi tomorrow.
Rajshahi City Corporation (RCC) has implemented the projects with an estimated cost of around Taka 295.60 crore aimed at enhancing civic facilities during the last couple of years.
The premier is also likely to open 18 other projects implemented by different other organizations with involvement of around Taka 1,612.57 crore besides laying foundation stones of six projects with an estimated cost of around Taka 376.28 crore.
The RCC has constructed the country's ever-largest mural of the Father of Nation Bangabandhu Sheikh Mujibur Rahman at C&B Crossing area in Rajshahi city at a cost of around Taka 5.02 crore.
Height of the mural is 58 feet having a 50-feet height and 40-feet wide Bangabandhu photo in the main part of the mural.
Terracotta works were done on 700-feet space on both sides of the boundary wall. Gallery and landscaping were well-decorated with super granite. The mural has night vision with decorative electric bulbs.
Rajshahi City Mayor AHM Khairuzzaman Liton said the mural inspires people to know about Bangabandhu Sheikh Mujibur Rahman along with his life, works and laudable contribution and sacrifice to the country's independence.
Construction work of Sheikh Russel Shishu Park is on the final stage in Rajshahi city aimed at opening up a new horizon in recreation of people, particularly the children.
The park was established on 2.14 acres of land in Chhotobangram area through a time-fitting design to give an eye-catching and attractive look with an estimated cost of around Taka 4.43 crore.
There are various modern rides including bridge, open stage, walk ways, artificial hill and full-proof security in the park.
Rajshahi people will get a new architectural view in the park and that will contribute a lot towards physical and mental development of children, benefiting people of all ages.
The city corporation has been elevating the Bilsimla Railway crossing to City Hat road to four-lane aimed at making the movement of both vehicles and people quick and smooth.
It's turning the road to 80-feet wide along with a four-foot-wide road divider with an outlay of around Taka 44.92 crore.
On both sides of the 3.532-kilometer road, a 44-feet road, 12-feet wide drain and footpath and 20-feet road for the slow-moving vehicles are also being constructed.
It has also been elevating another dilapidated road to a smart one at a cost of around Taka 55.78 crore.
The 4.17-kilometer potential road from Naodapara bus terminal to Bhadra Railway crossing is being elevated to four-lanes from double lane with additional two other lanes for slow-moving vehicles, road divider and drain and footpaths on both sides.
In addition to the elevation works the north-south connecting road will be beautified and greened through transplanting decorative trees and plants.
As a whole, the road will bring an epoch-making change to people residing adjacent to the road in terms of uplifting their socio-economic situation.
A flyover has been constructed on Mohanpur railway crossing at a cost of around Taka 40.80 crore. In all perspectives, the road area, particularly the flyover, is seen as a tourist spot as scores of people are humming to the area generating income for many of the locals.
City Mayor AHM Khairuzzaman Liton said an east-west connecting road has been constructed from Alif Lam Meem Bhata crossing on Rajshahi-Naogaon highway to Choddopaya crossing on Rajshahi-Natore highway via Chhotobangram, Meherchandi, Budhpara and Mohanpur at a cost of around Taka 189.35 crore.
In addition to construction of footpaths on both sides of the 6.793-kilometer road, various need-based modern infrastructures, including a flyover on railway crossing, a bridge, eight culverts and median, were constructed.
The newly constructed four-lane road has been playing a significant role towards mitigating the gradually mounting traffic jams in the metropolis.
Mayor Liton said a 2.5-kilometer road from Kalpana Cinema Hall Crossing to Talaimary crossing has been elevated to four-lane, costing around Taka 131.36 crore. Decorated and pedestrian-friendly footpaths have been constructed on both sides of the road with setting up colourful road lights.
Island has been beautified through transplanting decorative and ornamental flower plants.
Carpeting road, drain and footpath construction from Rentur Kharir Arat to Dhalur More via Hi-tech Park and carpeting road construction from Court to Shahartali Club has also been implemented at a cost of around Taka 13.30 crore.
Two midtown roads from Upashahar to Sonadighi crossing and Malopara crossing to Sagarpara crossing have been widened, costing around Taka 126.40 crore bringing an epoch-making change in terms of the city's communication.
The city corporation has so far installed 1,654 decorated and eye-catching lights on 695 poles in five separate roads and streets with a length of around 21 kilometers. Apart from this, 15 important road crossings were also brought under the modern lighting system.
As a whole, Rajshahi city has got a new look amid massive infrastructural development works and the modern road lighting has brought happiness to the city dwellers and other beneficiaries.