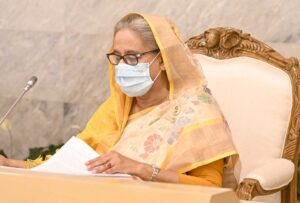 MOON Desk: Prime Minister Sheikh Hasina on Thursday urged the filmmakers to make life-oriented quality movies, saying that a good movie can change a person's life or a society.
"Movies should be life-oriented as these attract people… a movie can change a person's life or a society," she said, addressing ceremony to distribute the National Film Award-2021 as chief guest in city's Bangabandhu International Conference Center (BICC), organized by the Ministry of Information and Broadcasting.
Mentioning that people get the image of their life in movies, she said cinema and drama can develop human thinking and consciousness and can keep the people away from crime.
"If our writers write life-oriented literature, and movies and dramas are made based on that, it would create opportunities for us as we want to pull (the society) forward, improve quality of people's life and create opportunities for flourishing talents," she said.
Referring to the popularity of good movies, she said that many movies have been produced in the past few years which were truly of the international standards. "People have also accepted those and that's how we all need to work."
The Prime Minister said, once upon a time, movies used to be made with vulgar scenes or imitations following others, but instead of that, all should learn from good things and avoid the bad ones.
"(All should) consider what is good for the society and it should be contemplated whenever you make a film," she said, adding that "film is a media which can improve mentality of the countrymen."
Sheikh Hasina opined that there is a need for movies that parents, brothers and sisters can watch together.
Highlighting the government's initiative to stop obscenity and piracy, she said that a task-force is being formed to stop production of films with vulgarity and piracy. "If so, those would be stopped," she said.
Directing to increase the grant for cinema, the Prime Minister said, "If the grant is good, I think there will be better movies".
Calling for production of good children's movies, she said, "We are lagging behind in children's films. Good films need to be made for children. Those who make children's cinema need to be well funded".
She also put emphasis on raising the amount of government funds from Taka 25 lakh (for a full length film) and Taka 20 lakh (for a short film) to get quality movies.
Referring to construction of the Film Archive Building, Sheikh Hasina said that there is a scope to convert the old movies into new digital versions using modern technologies.
"Appeal of these old movies, especially related to the War of Liberation, is still there, because it highlights the history of our independence before the new generation," she said.
She added: "Everyone should be needed to know the history and that is why these movies should be kept in archive alongside making arrangements for their showcase".
To this end, she said this archive building has to be utilized.
Besides, she said, they have emphasized on training and that's why they have set up separate training institute as it is needed to compete with the cinema and others in the global arena.
About welfare of the artistes, the Prime Minister said that her government has passed a law for film's artistes and technicians welfare trust and formed trust along with providing seed money.
She urged the artistes and others related to the film industry alongside the wealthy persons to contribute to the trust.
"I will do from myself whatever is needed," said Sheikh Hasina, mentioning that her younger sister Sheikh Rehana keeps the reports of all over Bangladesh and insists her to do different kind of works.
"During the Covid-19 pandemic, she (Sheikh Rehana) asked me to help instrumental artistes and others as they had no jobs at that time. I assisted all of them financially."
About the people who say they can't talk even after talking a lot, the Prime Minister said that sometimes many people talk much; there are talk shows and many people talk all day.
"After a lot of talking, some people will say we can't talk, while there are now 2,455 newspapers in Bangladesh, 170 online news portals, 14 IP TVs have been given approval. There everyone is talking with full of heart. Couldn't say where? I don't know who closed their mouths," she added.
She said she saw that one talked for hours and criticized the government in various ways and after finishing everything he said that he can't speak.
Earlier, the Prime Minister distributed National Film Award-2021 among the winners in 27 categories.
With Information and Broadcasting Minister Dr. Hasan Mahmud, MP, in the chair, Information and Broadcasting Secretary Md. Humayun Kabir Khandaker delivered welcome address.
Chairman of the Parliamentary Standing Committee on Ministry of Information and Broadcasting Hasanul Haq Inu also spoke as special guest, while Doly Jahur spoke on behalf of the award recipients.
Eminent artistes Doly Jahur and Ilias Kanchan have been honoured with the "Lifetime Achievement Award" for their contributions to the film industry.