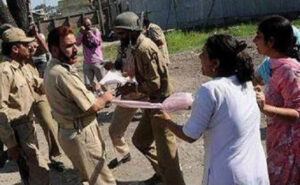 MOON Desk: Foreign Minister Bilawal Bhutto Zardari stressed on Tuesday the need for establishing a monitoring mechanism for crimes against women and girls in territories under foreign occupation, including Indian Illegally Occupied Jammu and Kashmir (IIOJK).Addressing a high-level debate at the UN Security Council in New York on 'Women, Peace and Security (WPS) towards the 25th Anniversary of Resolution 1325' the foreign minister called for holding the occupation forces accountable.
"The most egregious atrocities and crimes against women and girls occur in situations of foreign occupation and suppression of the right to self-determination to peoples," he told the conference, held on the eve of International Women's Day."The women, peace and security strategy will remain incomplete and unfulfilled so long as the acute dimension of the plight of women under foreign occupation is not addressed frontally and vigorously. Above all, occupation forces must be held accountable."
The debate was hosted and chaired by Foreign Minister Veronica Nataniel Macamo Dlhovu of Mozambique to commemorate the 25th anniversary of Resolution 1325 which provides for a range of measures aimed at women's inclusion in preventing conflicts.Bilawal said that the very object of violence in a situation of foreign occupation was to suppress the civilian population, adding that this was manifested most vividly in the occupied Palestinian territories and in IIOJK.
The foreign minister added that the world was far from realising the objectives of the 'Women, Peace and Security Agenda', noting that women continued to be the principal victims of war and conflicts.
"We hear the cries of mothers, sisters and daughters – in Iraq, Afghanistan, Ukraine, in Africa – suffering from the consequences of wars that were imposed on them," he said, adding that a strategy to prevent war was yet to be implemented.He expressed disappointment at the restrictions imposed on education and work on women and girls in Afghanistan, and urged the de facto authorities to take steps towards the resumption of female education and allow them to contribute to Afghan society.
In an interaction with the media later, Bilawal said the Pakistani nation, with resilience and determination, would effectively overcome the current challenges, including the economic crisis.
He said that Pakistan was hosting an event on Islamophobia from the platform of the Organisation of Islamic Cooperation Council of Foreign Ministers (OIC-CFM) to shun negative perceptions regarding human rights, particularly of women and minorities.Earlier, Bilawal welcomed the adoption of national action plans by more than 90 countries around the world, which had empowered women and girls and helped them respond to violence and conflict.
Bilawal arrived in New York on Tuesday morning on a 5-day visit during which he will preside over a conference on 'Women in Islam', on the sidelines of the 67th Session of the UN Commission on the Status of Women (CSW).