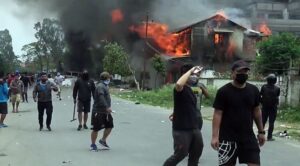 Moon Desk: The Congress on Wednesday accused the BJP of the present situation in ethnic violence-hit Manipur and urged Prime Minister Narendra Modi and Home Minister Amit Shah to speak to the warring communities in the hill state to bring normalcy there. Addressing a press conference at the party headquarters here, Congress leader Ajay Kumar said, "On May 3, 4, and 5, when violence erupted in Manipur and the state was burning, Modi and Shah were busy campaigning for the Assembly elections in Karnataka."
Targeting the BJP, the Congress leader, who was also a member of the party's fact-finding committee that visited Manipur on May 18, said, "The present condition in Manipur is the creation of BJP. The saffron party has nothing to do with the country; all it wants is to grab power."Citing the extent of damages caused by the clashes in the northeastern state, the former Lok Sabha MP said, "54,000 people have been displaced, 20 police stations have been torched and 2,000 buildings have been gutted in Manipur."
He also claimed that more than 1,000 semi-automatic and automatic weapons along with 6,000 bullets were robbed during the violence in which over 200 churches were also brunt. Besides Kumar, Congress President Mallikarjun Kharge had named Mukul Wasnik and party MLA Sudip Roy Barman to the three-member fact-finding committee.
Targeting the BJP, the Congress leader said that during elections, many ministers held public meetings to seek votes in the state, "but they have not gone there after violence erupted in Manipur".Kumar, a former IPS officer, said, "At the Imphal government hospital, 70 bodies are kept at the mortuary, while 18 bodies are kept at the Churachandpur hospital mortuary since May 5, which are yet to be claimed. Such is the condition in Manipur."
"Politicians are speaking in the language of extremists," he claimed."We demand immediate rehabilitation of the displaced people and a compensation of Rs 20 lakh each to the next of kin of the deceased, and Rs 5 lakh for the injured," the Congress leader said.
He also said that during their visit to the northeastern state, the three-member fact-finding committee of the Congress came to know that earlier there was no fight between the Meitei and the Kuki communities who lived there peacefully for decades."But things changed after the BJP came to power," he alleged.
Kumar also urged Modi and Shah to call a meeting of the community leaders for holding peace talks. The Congress leader pointed out that the Centre must take note of the huge social unrest in Manipur, which is a border state.
"The crisis is now not only limited to Manipur. Thousands of displaced people have crossed over to Mizoram. Besides, social unrest in a border state can be exploited by our neighbors. There is no security in the border areas where arson erupted again on Tuesday," Kumar said.
"There has been no tweet from either the Prime Minister or the Home Minister over the crisis in Manipur," he said.