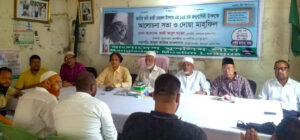 Discussion meeting on National Poet's 124th Birth anniversary
Moon Desk: Poet Kazi Nazrul Islam appeared in the literary arena of Bengal with the intention of reawakening the nation at a time when the Muslims of the subcontinent, who had turned from a nation of kings to a nation of beggars due to the joint suppression of the Benya English and the socialist Brahmins, appeared in the literary arena of Bengal with the interest of reawakening the nation. He accelerated the British Khedao movement by creating a united nationalism by awakening the multi-sectarian inanimate religious nations by resorting to non-violent subjects like song, poetry, and literature. On May 25, 2023, on the occasion of the 124th birth anniversary of National Poet Kazi Nazrul Islam, the leaders present at a discussion meeting and prayer meeting organized by the Bangladesh Muslim League under the chairmanship of Executive President Abdul Aziz Howladar at the Bad Zohar party office made the above comments.
In the speech of the main speaker, party secretary general Kazi Abul Khair said that the national image built up by the constant sacrifices and sacrifices of great people like poet Nazrul has been lost in the world due to the selfishness and arbitrariness of some power-hungry politicians. The veteran politician pointed to the new visa policy announced by the United States for Bangladesh and said that they have shown the world that the entire electoral system in Bangladesh is broken. This visa policy proves that the past elections were a farce in the name of elections. If its other allies also announce new visa policies in line with the US policy, Bangladesh may become virtually isolated from the international world. Only a universally acceptable national election can pull the country out of this abyss for which there is no other political path open to the alternative of establishing a neutral electoral government system by amending the constitution.
Standing Committee member Anwar Hossain Aburi, Vice President Nazrul Islam and AD Aftab Hossain Molla, Additional Secretary General Akbar Hossain Pathan and Kazi AA Kafi, Central Leader AD Habibur Rahman, Khan Asad, Md Wahiduzzaman, Mamunur Rashid and others also spoke.