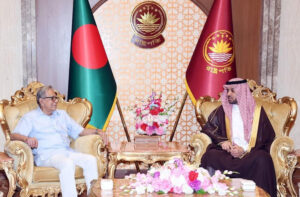 Diplomatic Correspondent|: Ambassador of the Kingdom of Saudi Arabia to Bangladesh Essa Yousef Essa Alduhailan paid a courtesy call on President M Abdul Hamid at Bangabhaban here this evening.
During the meeting, the ambassador handed over two greeting letters to the President on the occasion of "Bangladesh Independence and National Day" from King Salman bin Abdulaziz Al Saud of Saudi Arabia and Crown Prince Mohammad Salman bin Abdulaziz Al Saud, Prime Minister of Saudi Arabia.
President's Press Secretary Md Joynal Abedin told BSS that in the letter, they wished for continued development and progress of the government and people of Bangladesh.
The President said Bangladesh's relationship with Saudi Arabia is very excellent.
This relationship is expanding in several areas, he added.
About Saudi Arabian Commerce Minister's visit to Bangladesh recently, the President said this visit has opened a door of novel possibilities in the field of bilateral ties between the two countries.
The Head of State said there is an ample opportunity to increase trade and investment between Bangladesh and Saudi Arabia.
The Head of State expressed gratitude to Saudi Arabia for providing assistance to Rohingyas, taken shelter in Bangladesh earlier forcibly displaced from Myanmar.
This cooperation of Saudi Arabia will continue in days to come, he said, hoping that Saudi Arabia would continue to exert pressure on Myanmar to ensure a safe and dignified repatriation of the Rohingyas.
President's office secretary Sampad Barua, military secretary Major General SM Salahuddin Islam, press secretary Md Joynal Abedin and secretary (Attachment) Wahidul Islam Khan were present on the occasion.