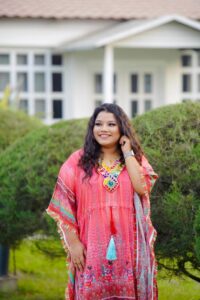 Entertainment Desk: Tasiba, famous singer in "New Daman". She responded with the song Sileti in 2020. Then in 2021, she was invited to the popular magazine show 'Etiyadi'. She further cemented her position with the song 'Ami Palangk Sazailam Go'. In the meantime, she has given some other popular songs including 'Sileti Puri', 'Sundar Manhoos' and 'Naya Kanya'". Recently, she released a song titled 'Chengra Bandhu', "Pakhi", "Piriter Nao" on the occasion of Valentine's Day. At present, apart from the stage show, he is regularly singing new songs.
However, Tasibar also said that it took 14 years to reach this place. She said, I have been singing since the age of eight. I have also participated in some competitions including 'Khude Ganraj'. But I could not get any place like that. Then when tiktok comes I take it very positively. I used to sing two-one lines regularly in these apps. In the same way, I also do the song 'Naya Daman' on Tik Tok. Then Muja, an American expatriate, saw the song and offered me to do the song on Instagram.
After that, we finished the entire song in three days and released it. After that, the song reached everyone through TikTok. However, I did not get much response for the song on the first day. Just two days later, I saw everyone doing the song. The song got four million views in a week. This is how the song has occupied everyone's heart now.
The singer of 'Sileti Puri' fame also expressed gratitude to etc. for today's position. She said, "It is through etc. that I have been able to strengthen my position more firmly." I never thought that Hanif Sanket sir would call me in such a short time.
However, the contribution of our popular Sylhet artist Salim Chowdhury is very high. He gave my number to Hanif Sanket Sir. Many of the artists who gained virality or recognition through social media in the last few years have disappeared. In this case, what are you planning for a long journey? She said, I will not call myself a viral artist. This is the result of my long time. I have been singing since the age of eight. I got the result of my hard work so far in 2020. And there is no end to learning. I'm still trying to learn a lot of the basics of music.
I have no desire to go viral again. Now the target is only to sing well. And those who are lost may be lost because they can't hold their own. There is also the matter of support. After my 'Naya Daman' became popular, I also broke down a bit. I read various questions from many people. But I was able to turn around because of the support of my family, the support of my relatives. Apart from the audio song, the singer has played back this song. Mizanur Rahman Labur has voiced in a movie of 'Amar Aranya' Shiroman.