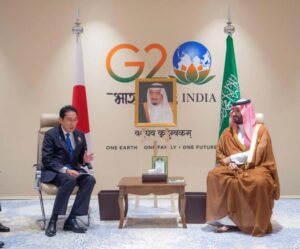 Moon Desk: Saudi Arabia's Crown Prince Mohammed bin Salman, who is heading the Kingdom's delegation at the G20 leaders' summit, met with Japanese Prime Minister Fumio Kishida in New Delhi, India, on Saturday, the Saudi Press Agency reported.
During the meeting, they discussed Saudi-Japanese relations in various fields and chances for developing them, in addition to touching on various issues of common interest.
The meeting was attended by Minister of Foreign Affairs Prince Faisal bin Farhan, National Security Adviser Dr. Musaed Al-Aiban, Minister of Commerce Dr. Majid Al-Qasabi, Minister of Investment Khalid Al-Falih, and Minister of Finance Mohammed Al-Jadaan.