S.A. Korobi: On September 12th, Bangladesh and the UK will hold their fifth strategic dialogue. The future of Bangladesh's ties to the United Kingdom in the wake of Brexit has been the subject of much conjecture. Analysts questioned Dhaka's duty-free access to Britain, which has been generous to an LDC economy like Bangladesh's, as the UK prepared for its exit from the EU. However, the United Kingdom and Bangladesh have weathered these worries quite well. Rather, one could argue that bilateral ties are stronger than ever before. The dialogue will serve as a further golden thread binding these nations together.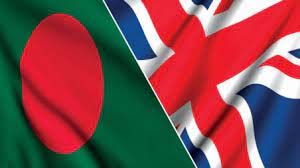 Dhaka and London are having a great year on cooperation and connectivity.In the post Brexit era, the year 2023 seems like to be the year that will shift the ties between these countries from a bilateral partnership to each other's crucial strategic partner in the current geo-politics.
Prime Minister Sheikh Hasina went to participate in the formal inauguration of the new King Charles III of the United Kingdom earlier this year. UK Prime Minister Rishi Sunak had only good things to say about Bangladesh during the visit. This is also reflected in London's post-pandemic approach to Dhaka.
Bangladesh-UK held their first ever defense dialogue in March of 2022where they discussed various ways of strengthening cooperation including defense, security and trade and climate change.This year started with the second Bangladesh-UK Trade and Investment Dialogue on February. Both the UK and Bangladesh agreed during the discussion that they would want to enhance their trade connection in order to increase their prosperity. This discussion was followed by signing an agreement on March for working together in climate action bilaterally and multilaterally to help deliver the outcomes of COP26 and COP27.
UK's Indo-Pacific Minister Anne-Marie Trevelyan signed the doctrine during her visit to Bangladesh which also signifies UK understands of Bangladesh's geostrategic importance in the Bay of Bengal and in the Indian Ocean.
So, this dialogue is surely a much anticipated one among the foreign ministries of these countries.
The provisional agenda includes the state visit of President Mohammed Shahabuddin to the United Kingdom in November and the possible visit of British King Charles III (Charles Philip Arthur George) to Bangladesh in 2024. Other than that bilateral trade, investment, and market opportunities; migration, mobility and a new visa scheme for students are expected to be at the top of the agenda. Discussions on the Russia-Ukraine conflict and the Rohingya crisis will also be featured.
The more complex agendas this year include discussions on mutual legal assistance and the extradition of convicted persons.
Bangladesh has failed to gain an extradition treaty with UK before. Repatriation of convicted criminals was discussed in the third Bangladesh-UK strategic dialogue. Discussion on returning convicts like Tariq Rahman,Chowdhury Moinuddin has stirred this conversation among these countries but UK has cleared their stance on occasions that persons who seek political asylum in the country, a rigorous procedure must be followed in order to repatriate them.
But Bangladesh has again sought an extradition treaty with the British government, weeks after a court in the South Asian nation sentenced fugitive BNP leader Tarique Rahman in a money laundering case. The discussions regarding extradition issues if proved to be fruitful, might finally help the government to bring fugitives to national justice. The strategic dialogues between these countries in recent years have usually brought deep discussions and decisions on bilateral issues.
On the first of this strategic dialogue was in 2017, the issue of defense purchase was discussed- a much needed ground setting for the Forces Goals 2030 of Bangladesh. On the last edition of this dialogue, held in London back in 2021, the UK pledge to extend duty-free, quota-free access to its market until 2029, aiming to facilitate Bangladesh's export-led growth.
Not only that, UK also added Bangladesh's name to the list of the Developing Countries Trading Scheme (DCTS) where the country will experience a more simplified regulation system and reduced tariffs on its products entering the UK. This only adds to UK's commitment towards Bangladesh's development – where the country is already one of the biggest developing partners of Bangladesh.
UK's such generosity towards Bangladesh isn't only because of the benevolence of its heart. The country is now out of the shell of EU, certainly has to widen its reach across other regions. Indo-Pacific is its preferred place to start.
Bangladesh's geostrategic location between China and the Indian Ocean with its advantage of having a gate way to Southeast Asia makes Bangladesh seemingly the perfect candidate for UK's strategic interests.Both countries have also announced their Indo-pacific policies which focuses mainly on their economic aspirations. With such resonating goals for the region, the countries can definitely build a bigger stage of collaboration with each other.
If the countries are able to seat on the table on their plans for further economic cooperation, there's much to discuss. Bangladesh exported goods worth 5.31 billion dollars to the UK but imported goods worth 450 million dollars. There is huge potential to increase both the numbers further. Again, there are now bigger opportunities for UK to invest in both Bangladesh's economic zones and its blue economy goals in the Bay of Bengal.
UK already recognizes Bangladesh as a critical stability provider in the Indo-Pacific and if both the countries play their cards right, the upcoming dialogue could prove to the building block of their visionary future together.
Author: S.A. Korobi is the Student of Peace and Conflict Studies (MSS) at University of Dhaka