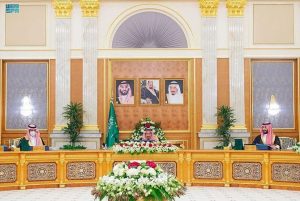 Ministers discussed the Kingdom's keenness to strengthen and develop relations with many countries 
Saudi Arabia's King Salman chairs weekly Council of Ministers meeting at Al-Salam Palace in Jeddah. (SPA)
Moon Desk: Saudi Arabia's Council of Ministers held its weekly session, chaired by King Salman from Al-Salam Palace in Jeddah, the Saudi Press Agency reported on Tuesday.
At the beginning of the session, the Cabinet discussed the Kingdom's keenness to strengthen and develop relations with many countries, through exchanging visits and enhancing cooperation and consultation.
The Council of Ministers commended the outcome of the talks Crown Prince Mohammed bin Salman held with the president of Uzbekistan during his official visit to the Kingdom, and the agreements and memoranda of understanding that were signed between the two countries in various fields. The two sides also announced investment and commercial deals worth more than $12.5 billion.
The Cabinet was briefed on the content of a phone call the crown prince received from the German chancellor, where they reviewed bilateral relations and ways to develop joint cooperation, as well as discussing the latest regional and international developments, and efforts to achieve stability and peace.
Acting Minister of Information Dr. Majid Al-Qasabi said that the Cabinet reviewed the Kingdom's successes that have been achieved in the field of education, including progressing in 16 global competitiveness indicators.
The ministers authorized the minister of culture and chairman of the Royal Institute of Traditional Arts to sign a draft memorandum of understanding between with the Korea National University of Cultural Heritage for cooperation in the field of traditional arts, and authorized the justice minister to sign a draft MoU for cooperation with the Gambian Ministry of Justice,
The Cabinet authorized the tourism minister to sign a draft agreement with the tourism ministries of the countries expected to join the Sustainable Tourism Global Center in the Kingdom.
It also authorized the minister of education to sign a draft agreement with the UN Educational, Scientific and Cultural Organization regarding operating a regional center for quality and excellence in public education under UNESCO's supervision.
The Cabinet authorized the minister of commerce and chairman of the General Authority for Small and Medium Enterprises to sign a draft memorandum of cooperation with the Small and Medium Enterprises Development Authority in Oman in the field of developing the SMEs sector and entrepreneurship.
The council approved an agreement between the Saudi and Bangladeshi governments on cooperation and mutual assistance in customs affairs, and approved a MoU between the Communications and Information Technology Commission and the Egyptian National Telecommunications Regulatory Authority in the field of communications and information technology.
The ministers approved a draft agreement to establish the Saudi-Indonesian Supreme Coordination Council, and appointed Ayman bin Ishaq Afghani as a member of the board of directors of the Saudi Industrial Development Fund, representing the Ministry of Economy and Planning.