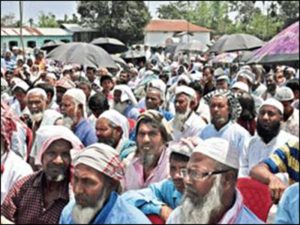 Moon Desk: RSS being true representative of extremist Modi government is working on new plan to counter the growing influence of the Popular Front of India (PFI).
In its annual report tabled during the Akhil Bharatiya Pratinidhi Sabha Baithak in Gujarat, RSS said, there was "growing religious fanaticism" in the country in the guise of "Constitution and religious freedom" and "elaborate plans by a particular community to enter the government machinery".
It also called for "all-out efforts with organized strength" to "defeat this menace". In this regard, holding of interfaith communal harmony meeting at the Constitution Club on the behest of National Security Advisor Ajit Doval is part of the Modi's anti-Muslim plan.
A resolution was proposed by All India Sufi Sajjadanashin Council to ban on organizations like Popular Front of India (PFI) for pursuing a "divisive agenda" and indulging in "anti-national activities." PFI National Secretary Mohamed Shakif has slammed the resolution adopted against the organization by pro-RSS groups claiming to be a Sufi group and attended by National Security Advisor Ajit Doval in New Delhi.
He also proclaimed that RSS is a cancer and PFI is the only organisation in this country that stands as a thorn in their path. That's why they target us. They call us 'fringe'. We will die, but we will not bow our heads.
BJP government does not recognize Muslim intelligentsia as the political leaders fit to lead the community. So BJP government is creating a new Muslim leadership and its eyeing custodians of Muslim Sufi Saints' Shrines for this purpose.
These people are handpicked by Modi government and are recognized as the representatives of the Muslim community. Ajit Doval's conference was an exercise to ban the Popular Front of India (PFI) that has become activated after scores of anti–Muslim hate crimes reported in the India.
Entire event looks like staged and sponsored by Indian extremist forces to bash the Muslim community and the organization with the ulterior motive of misleading people.
If the NSA is sincere about the problems of the Muslim community, he should address the voices of the genuine Muslim leaders and community organizations which are already in the public domain.
Mohamed Shakif also reminded BJP government that its constitutional and statutory responsibility in the current situation is to curb Hindutva terror targeted against religious minorities and stop the misuse of state machinery to witch-hunt minority community organizations and leaders.