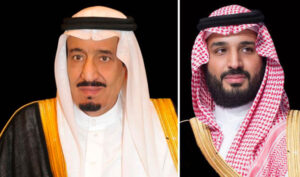 AN, RIYADH: Saudi Arabia's King Salman sent a cable of condolences to Russian President Vladimir Putin on the death of former Soviet Union leader Mikhail Gorbachev, the Saudi Press agency reported early Friday.
"We send to Your Excellency, the family of the deceased and the Russian people, our deepest and sincere condolences," the king said.
Crown Prince Mohammed bin Salman also sent a similar cable to the Russian president.
Gorbachev, who as the last leader of the Soviet Union waged a losing battle to salvage a crumbling empire but produced extraordinary reforms that led to the end of the Cold War, died Tuesday. He was 91.
The Central Clinical Hospital said in a statement that Gorbachev died after a long illness. No other details were given.
Kremlin spokesman Dmitry Peskov said Tuesday in a statement carried by Russian news agencies that Russian President Vladimir Putin offered deep condolences over Gorbachev's death and would send an official telegram to Gorbachev's family.