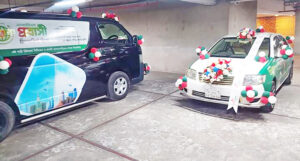 Md Mazadul Hoque: A South Asian country, Bangladesh is blessed with a great number of financial institutions. The financial institutions comprise two sections in light of operations-Conventional and Islamic. The banking industry had been playing an instrumental role in keeping the wheel of economy afloat. The country's private sector credit growth heavily depends on bank financing. Credit growth in private sectors is badly needed for employment generation. Bangladesh, in the meantime, took plan to diversify products for exporting in a bid to earn foreign currency to a great extent. The banking industry acts as channel of bringing foreign currency in exchange of exporting products. Nevertheless, foreign remittance sent by Bangladeshi expatriates comes through banking channel, widely known as formal channel.
Since Bangladesh is a bank-dominated economy, banks can do many things whatever it wish for the welfare of the state. Ultimately, the banks operating in Bangladesh do better for greater interest of the country. Many avenues are opened in serving the people mostly living in difficult-to- reach areas. To bring vast number of unbanked population under banking network is tough task. With a view to reach the unbanked people, there is no alternative to float innovative products.
A second generation Social Islami Bank Ltd (SIBL) is in a race to reach the doorsteps of the unbanked  people with recently launched lucrative products. With keeping its vision 'Working Together for Caring Society', SIBL is being observed to gear up its activities. As part of its recent activities, SIBL has done really good for Bangladeshi expatriates with initiating a product titled 'SIBL Probashi Deposit Scheme'. With recalling their role to the development of the country, the bank took the admirable decision of introducing the product. Expatriates Under the product, the account holders will be provided diagnostic facilities from SIBL Foundation Hospital & Diagnostic Center in Dhaka. Bangladeshi-origin expatriates frequently face hassle in different forms while moving at airport in times of incoming and outgoing. The inbound expatriates will be carried by the automobiles owned by SIBL from Hazrat Shahjalal International Airport for placing at their destinations within Dhaka city. The service confirmed by SIBL is first of its kind in Bangladesh.
There are millions of floating business people in Bangladesh who are widely known as 'Hawker'. SIBL recently came up with 'Hawkers Deposit and Business Development Scheme' that created huge enthusiasm among the Hawkers towards opening the account. After opening the account, the hawkers would be able to set up their own establishments with financing disbursed by SIBL. It is a great and rare opportunity for them, no doubt.
Besides, SIBL placed its footing strongly among retired citizens by dedicating a product titled' Retired Citizen Monthly Benefit Scheme'. If required, the account holders under this product will be given transport facility for shuttling them between SIBL Foundation Hospital & Diagnostic Center and their dwelling places in Dhaka. A significant amount of discount facility has also been confirmed for the account holders for the purpose of taking treatment facility. Immediately need to introduce these three products in the title of SIBL Education Savings Scheme, SIBL Medical Savings Scheme and SIBL Marriage Savings Schemes.
Truly saying, recently launched six products mentioned above have drawn attention to the people. The reason of rushing of the people towards catching up the products is many. Briefly saying, the features of these products are highly allured. While responding to questions, Managing Director & CEO of SIBL, Mr Zafar Alam told this writer that considering the need of the people, the products have been launched. The newly launched products would greatly help for inclusive growth in economy. There are plans in hand to flourish more products in coming days for keeping financial inclusion concept in mind.
Considering importance of foreign currency in economy, SIBL has been trying its level best to motivate remittance senders in many ways. For the past couple of years, the bank put its footprint in remote areas through expanding networks in the form of Branch, Sub Branch, and Agent banking outlets. It has been possible to do everything by bank's hard working staff.  All lenders in Bangladesh like SIBL should design state-friendly programmes. SIBL engagement in state's welfare is really appreciable.
Author: Md Mazadul Hoque is the In-Charge of SIBL Training Institute.