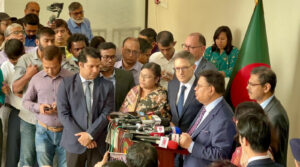 Diplomatic Correspondent: The United States (US) has been dealing with root causes of Rohingya crisis alongside extending support to Dhaka to tackle over a million of the forcibly displaced minority Myanmar people, a senior visiting State Department official said here on Wednesday.
"We are working every day not only to try to help Bangladesh as they are hosting these refugees but also to deal with the root causes of this crisis, which rest inside Myanmar," US state department Counselor Derek Chollet told reporters.
Chollet, who serves as a senior policy advisor to the Secretary of State Antony Blinken, added that the US was highly appreciative of Bangladesh for extending the makeshift refuge to such a huge number of displaced people on humanitarian ground.
Chollet, who leads a seven-member US delegation, appeared before the Bangladesh media after talks with Foreign Minister Dr AK Abdul Momen at his office.
The US embassy officials said he was serving with the status of an undersecretary to conduct special diplomatic assignments as directed by the Secretary of State.
Earlier in the morning Chollet called on Prime Minister Sheikh Hasina this morning, which he described as a "very good" meeting.
The state department official said the Washington regarded relations with Bangladesh to be of high importance which was reflected by the visits of several US officials and delegations in the recent period.
"I am just the latest senior visitor from Washington to come here to Dhaka which is a symbol of the importance that we place on in growing our relationship politically in terms of security as well as economy," he said.
Chollet, who leads a seven-member US delegation to Bangladesh, said Washington foresaw expanded ties with Dhaka saying "it's been 51 years of very strong partnership (with Bangladesh) and we are looking forward to the next 51 years and beyond".
"We have many shared challenges, but we have many common opportunities (as well)," he added.
Momen The foreign minister, meanwhile, said the Rohingya issue largely featured his talks with the US delegation adding the United States was the greatest contributor to this humanitarian crisis.
"They also agree with us that the living conditions of the Rohingyas need changes and improvements, putting expectations in their hearts . . . they (USA) will be with us," Momen said.
He said the high level US delegation was here to further improve and strengthen bilateral ties and noted that the US was the biggest investor in Bangladesh and a single country, buying about US$9 billion worth of RMG products.
Momen said Dhaka "wants to go further than that" while Bangladesh would be happy to see fresh US investments at its newly built 100 Special Economic Zones.
"We have had a good relationship in the last fifty years, but this relationship we want to take it forward and solidify this," said the minister.
Chollet-led delegation arrived in Dhaka on Tuesday evening on a two-day official visit.
The US State Department earlier said the counselor would discuss the coordination of responding to the Rohingya crisis and the security partnership between the US and Bangladesh during his Dhaka visit.
Bangladesh's foreign ministry in a statement echoed the state department saying the purpose of their visit was to strengthen bilateral relations and government-to government ties with an elevated focus on the Rohingya humanitarian response.
US ambassador in Dhaka Peter D Haas accompanied the delegation in the meetings.