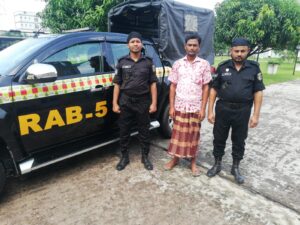 Rajshahi Bureau: An operation team of RAB-5 arrested Md. Humayun Kabir (37) along with 5 kg of heroin worth Tk 5 crore.
(September 6) At 4:30 p.m. the previous night, he was arrested with the recovery of 05 kg of heroin and 57000 (fifty seven thousand) cash in Charraninagar (Bachar) village under Chapainawabganj Sadar police station.
The arrested accused is Md Humayun Kabir (37), son of Md Damez Uddin of Charraninagar (Bakchar) area of ​​Chapainawabganj Sadar Upazila.
This information was confirmed by the captain of RAB-5 in a press conference held at the headquarters of RAB-5 in Rajshahi on Wednesday (September 7). Colonel Riaz Shahriar.
According to RAB sources, an operation was conducted in the area bordering Sadar police station of Chapainawabganj district on Wednesday (September 7) around 4:30 am.
According to the intelligence of RAB, the gang used to collect heroin from remote border areas and smuggled it through Rajshahi and Chapainawabganj to different parts of the country through boats, buses, trains, trucks and other means of transportation. 8 and 8-10 identified big drug dealers lead the ring.
Another member of this drug smuggling ring was arrested by the members of RAB-5 from the same area on August 13. At that time, 4.5 kg of heroin was recovered from him.
RAB-5 Flight Lieutenant Maruf Hossain Khan, Assistant Superintendent of Police (Operations) Sanjoy Kumar Sarkar and others were present at the press conference.