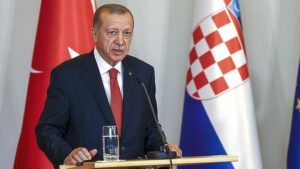 Moon Desk: With Ukraine's grain exports ongoing under a landmark deal amid the war, Türkiye seconded Thursday the shipment of grain from Russia soon as well.
"We want grain shipments from Russia to start as well, we expect this," President Recep Tayyip Erdogan said at a news conference with his Croatian counterpart Zoran Milanovic in the capital Zagreb, the last stop of his three-nation Balkan tour.
Erdogan said Russian President Vladimir Putin is "right" that Ukraine's grain "unfortunately" goes to the rich countries, not to poor ones.
"While sanctions against Russia continue, on the other hand, grain shipments to the countries that impose these sanctions are disturbing Putin," he said.
Erdogan added he will discuss this issue with Putin on the sidelines of the Shanghai Cooperation Organization summit in Uzbekistan in September.
Turkiye, the UN, Russia, and Ukraine signed an agreement in Istanbul on July 22 to resume grain exports from three Ukrainian Black Sea ports, which were paused after the Russia-Ukraine war began in February.