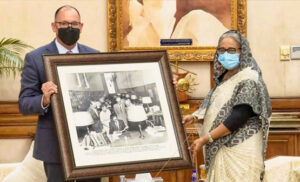 Moon Desk : The US ambassador to Bangladesh Peter Haas on Tuesday met with Prime Minister Sheikh Hasina.
They highlighted the shared achievements over the 50 years of positive bilateral relations between the United States and Bangladesh and discussed ways to deepen the partnership between the two countries.
"We discussed our cooperation on a range of topics, including economic development, security, climate change, Rohingya refugee assistance, and COVID-19," Ambassador Haas said after the meeting.
In the meeting, Ambassador Haas acknowledged Bangladesh's remarkable economic progress, its leadership on climate change, its generosity in sheltering Rohingya refugees, and its tremendous contribution to global peacekeeping operations.
"During our meeting, I told the Honorable Prime Minister Hasina that I think one of our proudest joint achievements was in how we worked together to respond to the COVID-19 crisis," said Ambassador Haas. "I commend Bangladesh's effort to vaccinate over 70 percent of its entire population" he added.
Ambassador Haas reaffirmed the United States' continued support of Rohingya refugees and Bangladeshi host communities.
He further noted that the United States looks forward to growing its defense cooperation with Bangladesh.